Jointly organized by the China Illuminating Engineering Society (CIES), China Solid State Lighting Alliance (CSA) and Adsale Exhibition Services Limited, the largest Lighting Expo in northern China, "China Lighting Expo 2016"& "Smart Home & Intelligent Building Expo2016" will be held on April 14-16, 2016 at the China International Exhibition Center, Beijing, PR China (Sanyuan West Bridge). All lighting, smart home and intelligent building manufacturers make good use of this platform to demonstrate their incredible technics and products by information exchange during the expo.
New element in 2016 expo – Integrating Lighting and Intelligence into Daily Lives
"China Lighting Expo" & "Smart Home and Intelligent Building Expo" used to focus on lighting and smart home applications, user experiences, promoting industrial creativity and development all the way. Since the success of past years, 2016 expos will demonstrate the endless possibilities of integrating lighting and smart home applications into living, and how it can improves living quality and usher in new experiences.
Besides the sample lighting experience demonstration on the expo, this year we will also promote the usage of lighting and smart home application in cultural industry. Industry leaders and celebrities will take part in "China Museum Lighting and Intelligent Design Forum", where they will share with design professionals on how museums and art galleries can make use of professional lighting and intelligent systems in order to elevate the protection for the collection, and enhance the display effects of exhibits.
Special attention to end-user applications, the expos has invited well-known lighting designers to manage 'Museum Lighting Intelligent Design Experience Zone' and 'Smart Hotel Experience Zone'. Both of them demonstrate the actual scenarios, showing how design could integrate with new technology, products and ideas by presenting multi-sensory and multi-perspective products, hence, incredible and smart-tech experiences to visitors.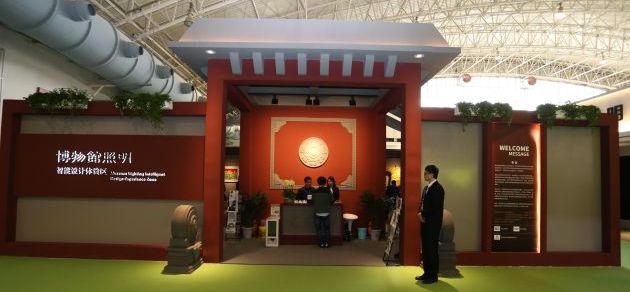 Meanwhile, to strengthen the development of the smart home market, the expos offer "Smart Decoration Think Tank" Smart Home Consultant Services which further emphasis on smart home renovation, and to promote the expedited integration of smart home products in construction and renovation projects. The Consultant Services is provided by experts in the smart design industry, who will provide professional analysis and diagnosis to problems and cases encountered by both the suppliers and users of smart home services and products. The Consultant Services will also provide assistance in choosing the most suitable and state-of-the-art products based on the trends, and help in creating a smart home living.
Track Record on Attendance at First Day, Emotions Ran High Among Professionals
There are almost 300 companies participated whilst the total booth area reached 30,000 square metres. Exhibition halls were divided into several themed zones: Hall 1 consists of road lighting, landscape lighting and LED technology; whereas Hall 8 consists of indoor lighting, commercial lighting, museum lighting, smart lighting, smart home, and intelligent building, etc.
For lighting exhibits, famous enterprises in the midstream and downstream lighting as well as the LED industries will take part in the expo; For smart home and intelligent buildings exhibits, a comprehensive smart control system technology and products will be provided, including variety solutions in areas Smart Home, Smart Hotel, Intelligent buildings, stand-alone smart products, smart cloud, smart communities, the Internet of Things, Consumer Electronics, i-cloud, Smart Society, Internet of Things, Smart City, Electronic Engineering and Networking, etc.
Echoing the 'Smart Living and Application' theme of the expos, participating enterprises set their sights on business opportunities in smart lighting. The smart element will be integrated into all points on the LED lighting industry chain of applications. The future smart living show is quietly taking root and blossoming.
In the first show day, nearly 100 groups of delegates, massive groups of visitors from design institutes, industry associations, professional bodies, government departments, suppliers, landlords, engineering companies, designers and end-users came to the expo. All of them express their enthusiasm towards the expo. With all these participants, the influences of the expo is strengthen through exhibitions and demonstration, forum exchanges, cases studies and other means.
The First-choice Business Platform is Awaiting You!
"China Lighting Expo 2016" & "Smart Home & Intelligent Building Expo2016" have moved to the next level, as they gathered high quality resources from engineering, design, distributor channels and end-user application in the huge Northern market. It presents a great platform and communication channel between industrial buyers and suppliers through product display, change from seminars and solution recommendation. There are two more days to go, what are you waiting for? Come and visit now!
For enquiries, please contact Adsale Exhibition Services Ltd.
Tel: (852) 2516 3515
Email :Light.PR@adsale.com.hk
------ End ------
Issued by Adsale Exhibition Services Ltd
For media enquiry / media cooperation, please contact:
Ms Winnie Tam
Tel : (852) 2516 3515
Fax : (852) 2516 5024
Email :Light.PR@adsale.com.hk
The Adsale Group : http://www.adsale.com.hk
Official Website of China Lighting Expo : http://www.ChinaLightingExpo.com
About the Organizers
China Illuminating Engineering Society (CIES)
was a first-tier national society, and is the sole organization representing China in the Commission Internationale De L'Eclairage (CIE) in the name of China National Commission on Illumination. Besides organizing professional seminars and activities, providing training and consulting services, etc, CIES also builds the lightingchina.com.cn and publishes "Lighting Engineering Journal" with the mission to develop the lighting technology industry.
Adsale Exhibition Services Ltd
is one of the leading organizers of international trade fairs in China for over 35 years. Adsale has been organizing renowned and large-scale expo and posses with a large database of varies industries. Industries involved include textile and garment, plastics and rubber, energy and power, printing and label, packaging, woodworking and furniture, automobile, lighting, boiler technology, etc. In 2013, Adsale's exhibitions occupied a total expo area of 760,000 sqm and drew around 8,000 exhibitors and over 420,000 trade visitors from all around the world.